FAQs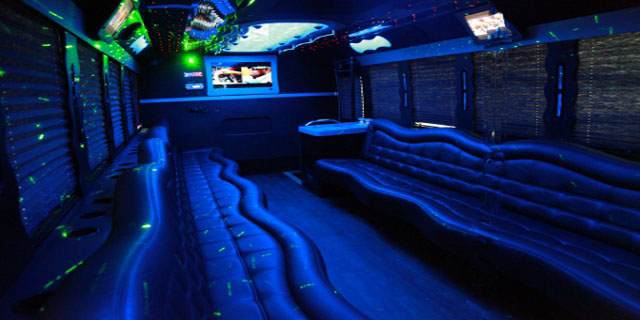 Q: What is the Stars R Us PartyBus?
A. The Stars R Us PartyBus is LA's premier party bus limo. Our fleet of customized Tiffany Coachworks party buses are complete with bar area, bathrooms, stereo systems and custom seating for 10 to 38 people. You have all the luxury and amenities of a limo without the hassles. You can stand up and walk around or dance if you feel like it. We even have a Stripper Pole! It's a great way to celebrate with friends or travel to special events such as concerts and sporting events. Even trips to Las Vegas are possible on the PartyBus!
Q: What is the deposit amount and when is it due?
A. Deposit is 20% of the total rental charge. It is due at the time of initial booking.
Q: When is the remaining balance due?
A. It is due on or before the day of your event. Payment options are available and must be agreed upon before pick up.
Q: What is the cancellation and refund policy?
A. Cancellations must be made and confirmed at least 14 days prior to your scheduled event date. If the cancellation is received less than 14 days before the event or not received at all, the credit card holder/purchaser will forfeit the full amount of the security deposit. If a cancellation is made within 5 days of the scheduled booking, the full amount of the security deposit will be forfeited as well as up to 50% of the total rental fee.
Q: Is alcohol permitted on the Party Bus?
A. YES. The Stars R Us Party Bus is a Bring Your Own Booze (BYOB)party bus. However, alcohol is only permitted if EVERY PASSENGER is of state legal drinking age (21). The ages of ALL passengers will be verified prior to any alcoholic container being brought on board. Passengers must be in possession of an issued form of identification while on board the bus. You are also permitted to bring non-alcoholic beverages as well. Food can be transported, but NOT consumed on board the bus.
Q: What if my event runs longer than expected, or if I want extra rental time?
A. If your event goes over contracted rental time by a short time period (ie: 15 minutes), you will not be charged. However, if it goes over by an excessive amount of time, the credit card holder will be charged per additional hour based on the quoted hourly rate. If there are no schedule or time conflicts, you may request extra rental time at the time of your event. You will be charged per additional hour based on the quoted rate.
Q: I would like to rent the Party Bus for a short amount of time. What is the minimum number of hours it can be booked for?
A. The Party Bus has a 3 hour minimum. However, one-way trips can be scheduled if availability permits.
Q: Is there a maximum amount of time I can rent the Party Bus?
A. The Party Bus can be scheduled for as long as you like.
Q: How many passengers does the Stars R Us Party Bus hold?
A. Maximum occupancy is 30 passengers. Optimum occupancy is 18-24.
Q: What is the maximum distance the Party Bus travels?
A. Our normal operating distance is a 75 mile radius around Los Angeles. However, we can travel anywhere within the state of California. If the pick-up/drop-off location is greater than 25 miles from Los Angeles, a fuel surcharge will be applied, based on current fuel prices.
Q: If going on an overnight trip, am I responsible to find a hotel room for the Party Bus driver?
A. On overnight trips the chartering party is responsible for the hotel room costs for the driver. Typically, if a large party is staying at a hotel, the hotel can offer a complementary room. If the hotel does not offer a complimentary room, Stars R Us can find an economical room for the driver and book it for the chartering party.
Q: Is a tip required for the Party Bus staff?
A. A 20% gratuity for your driver/host is added to your final bill. You may offer a "side tip" to any member of the staff if you feel the service exceeds your expectations.